dr

Elżbieta Wilczyńska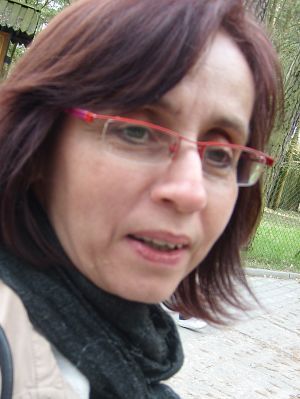 Starszy wykładowca (Senior lecturer)
Collegium Heliodori, room 359

Websites / Profiles
Degrees
M.A. in English, Poznań, 1985
Ph.D. in English, Poznań, 2008
Research interests
American and British civilization
American and British history
American studies: Native Americans, ethnicity
Cultural studies
Teaching experience
British and American life and institutions
American studies: Native Americans and ethnic minorities
American and British history
Teaching culture
TEFL at university level
Other professional experience
Translator of academic texts and articles
Professional Organizations
Polish Association for American Studies
American Indian Workshop
Papers read at international conferences and congresses
Cultural Curriculum. Theory. Practice and Trends. Lipiec 2000. Zajączkowo. Zorganizowana przez KJO UAM Poznań. Referat: "Three Approaches to Teaching American Life and Civilization: Academic, Integrational, and Vocational".
Multicultural Dilemmas. Ustroń 25-29.09.2002. Referat: "Reinventing Traditions. The Pequot Nation in Search of Itself".
Obrzycko 2002. Zorganizowanie British and American Studies Seminar Raising Literary and Cultural Awareness. 18-20.06. 2002
Obrzycko 2003. Zorganizowanie konferencji: Mythologies: From Construction to Transgression. Changes in American and British Social Life, Culture, and Lietarature. Referat: "The Myth of Pocahontas and Squanto Reconsidered".
12 Konferencja PASE. Miedzeszyn. 24-26.04. 2003 Referat: "Black Indians in Search of Identity".
2003 Konferencja PAAS. America: The Natural and Artificial. Poznań 19-21.10.2003 Referat: "Mother Earth in Retreat. The End of Ecological Indian".
American Studies Workshop. Toruń 16-18.04.2004. Negotiating Identity: What Does it Mean to be American?
Obrzycko 2004. Zorganizowanie konferencji: Autobiography and Biography: Construction of the Self in Literary, Historical and Cultural Texts. Referat: "Early Native American Autobiography as a Conversion Narrative and Political Manifesto: The Case William Apess".
Konferencja PAAS 2004. American Freedoms, American (Dis)Orders. Jadwisin. 2004.
Konferencja PAAS 2005. Conformity and Resistance in America. Kamień Ślaski. 23-25.10. 2005. Referat: "Catherine Maria Sedgwick and William Apess in a Debate about the Predicament of the New England Indians in the Context of the 19th Century Indian Policy."
New Developments In American Ethnic Literature. Łódź, 19-22.02.2006. Warsztaty z literatur etnicznych.
Konferencja PAAS 2006. Ideology and Rhetoric: Constructing America. 26-28.10.2008 Warszawa. Referat: Constructing a Casino Native American in North America. The Case of the Pequot Nation.
"The Battle over Genocide – Was it also the Experience of Native Americans. American Indian Workshop, Graz 2011.
"The Mashantucket Pequot Museum and Research Center: "Representation and the poetics of exhibiting of the Mashantucket Pequot Tribe", American Indian Workshop. Zurich 2012.
"The Pequot War as a central theme of the 19th century narratives: Spectralization or revivalism", read in October in Ledyard, Ct, USA, in 2013, at a conference "Diplomacy, Warfare and Culture in 17th century New England";
Cultural Traditions of the Southern New England Tribes in the 21st century, American Indian Workshop. Helsinki, 2013.
American Workshop Conference w Helsinkach 2014 "Cultural Traditions of the Southern New England Tribes in the 21st century".
American Workshop Conference w Frankfurcie nad Menem. Referat: "Nostalgia in the Native American country" w 24-27 marzec, 2015.
"Nostalgia w literaturze amerykańskiej", Białystok 12-14.09.2014. Referat: The power of nostalgia in perpetuating powwows in Native America".
15. P AAS, Homeliness, "Domesticity and security in American Culture", Warszawa 23-25.09. 2015. Referat: Let's move into the Longhouse: The Iroquoian Women's quest for the home.
American Workshop Conference w Odense, Dania. 25-28 maj, 2016. Referat: "What does it take to be funny and why? Humor in Infinity of Nations."
Polish Association of American Studies, Warszawa 27-29 październik, 2016. Referat: "Transgression of the western paradigm by the Kumeyaay people of the California/Baja California through adoption of Native American Cosmology in chosen areas of their contemporary life".
Aboriginal People of North American and Europe: Strengthening Connections, 11-13, listopad, Poznań. Referat: Polish Indianist Movement and Cultural Appropriation.
AIW The Art of Resistance and resurgence, w Londynie, Wielkiej Brytanii, 3- 7 lipiec 2017. Referat: "Brian Jungen: Prototypes for A New Understanding and their power to empower challenge"
PAAS, Performing America, w Szczecinie 18-20 październik 2017. Referat: "#NoDAPL as a Performance of Ingenuity",
Redefining Australia and New Zealand: Historical Heritage and Contemporary Perspectives in Language, Culture and Literature, University of Opole, 24-25 November 2017. "The Return of the Silenced: Aboriginal Art as a Flagship of New Australian Identity"
AIW Arrows of Time: Narrating the Past and Present w Gandawie, Belgia, 11-13 kwiecień, 2018., Referat: "Sat-Okh - a contested story of Stanisław Supłatopwicz - a "Polish shaman".
AIW Indigenous Economies: Sustenance, Sustainability and Sovereignty", w Poznaniu, 24-27 kwiecień, Referat: "The ambivalence of rich Native Americans - the Osage and the Pequots"
ANZORA I UMSC, Problemy i perspektywy rozwoju Oceanii. Transkulturowosc a zycia I sztuka Williama Baraka. Lublin 2017.
AIW "Indigenous shapes of water", Monachium (online), wrzesień 2020, Referat: "Water and Women Link Representations vs. Native Feminist Ethics in Contemporary Native American and First Nations' Art".