dr

Katarzyna Burzyńska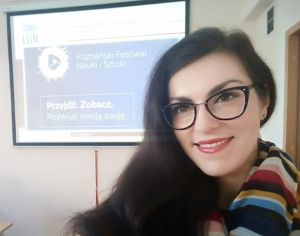 Adiunkt (Assistant professor)
Collegium Heliodori, room 359

Websites / Profiles:
Degrees:
B.A. in English 2008 (UAM)
M.A. in English 2010 (UAM)
Conference Interpreting Programme at AMU School of English, 2010 (Languages: A - Polish, B - English, C – German, additionally basic Dutch)
Ph.D. in English 2014 (UAM)
Research interests:
Shakespeare studies
Literature and philosophy
Existentialism
Interpreting and Translation
Research projects:
Principal investigator of the project entitled "Sir, she came in great with child, and longing": phenomenology of pregnancy in English early modern drama (Measure for Measure 2.1.96)" funded by The National Science Centre (Narodowe Centrum Nauki) within OPUS 14 framework. Project No. UMO-2017/27/B/HS2/00089 "Przyszła ona do nas brzemienna": fenomenologia ciąży w angielskim dramacie wczesnonowożytnym ("Miarka za miarkę", 2.1.96).
Teaching experience:
EFL at university level
History of English literature
Scientific-technical translation
Popular scientific translation
Translation strategies
Professional organizations:
The Polish Association for the Study of English (PASE)
Deutsche Shakespeare Gesellschaft (DSG)
European Shakespeare Research Association (ESRA)
European Society for the Study of English (ESSE)
Société Française Shakespeare (SFS)
British Shakespeare Association
Scholarships:
LLP Erasmus for PhD students Ludwig-Maximillian Univesität München, summer semester 2013
Papers read at international conferences:
The 20th Annual Conference of the Polish Association for the Study of English In Comparison - Juxtapositions, Correspondences, and Differentiations in English Studies 12 – 14 May 2011, Toruń
Shakespeare's Shipwrecks: Theatres of Maritime Adventure - An International Conference organized by Deutsche Shakespeare Gesellschaft and European Shakespeare Research Association, 28 April - 1 May 2011, Weimar
Hamlet and Poetry - An International Conference organized by University of Glamorgan and Cardiff University, 13-14 September 2011, Cardiff
Drama Through the Ages and Medieval Literature Conference - Eroticism and its discontents at the University of Łódź, Poland, 20-22 October 2011, Łódź
Reflections and transfigurations: tradapting and performing Shakespeare today organized by University of Toulouse, 26 April2012, France
LIES, Literature in English Symposium, 13 May, 2012, Poznań
Fury (literature, culture, language and translation), 26-27 October 2012, University of Gdansk
1st International Postgraduate Conference CLASH (Culture, Literature, Anthropology, Sociology, History), 7-8 December 2012, Poznań
Shakespeare and Myth organized by European Shakespeare Research Association and Société française Shakespeare, Montpellier, 26-29.06.2013
Diversity and Homogeneity: Politics of Nation, Class, and Gender in Drama, Theatre, Film, and Media, Univeristy of Łódź and Międzynarodowe Centrum Badań Szekspirowskich (International Shakespeare Studies Centre), Łódź, 25-27.10.2013
Early Modern Memory Conference organized by Early Modern Research Group at University of Worcester, Worcester, 8-9.05. 2014
Sixth Biennial British Shakespeare Association Conference: Shakespeare: Text, Power, Authority organizowaną przez University of Stirling i British Shakespeare Association, 3-6. 07. 2014.
CLASH 2014: "(Non)Belonging: (Re)Reading Identities", Department of English Literature and Literary Linguistics, Faculty of English, Adam Mickiewicz University Poznań 5-6.12. 2014.
British Shakespeare Association Biennial Conference "Shakespearean Transformations: Death, Life and Afterlives, Hull, 8-11. 09. 2016.
"Old Masters in New Interpretations", Uniwersytet Warmińsko-Mazurski, Olsztyn, 28. 10. 2016.
"Aboriginal North America and Europe: Strengthening Connections" Faculty of English, AMU, Poznań, 11-13. 11. 2016.
The European Shakespeare Research Association (ESRA) "Shakespeare and European Theatrical Cultures: AnAtomizing Text and Stage" 27-30 July 2017, Gdańsk (programme coordinator, seminar co-convener, book launch coordinator).
Biennial British Shakespeare Association Conference: "Shakespeare Studies Today", Queen's University Belfast, 14-17 June 2018.
"Teaching Early Modern Drama" University of Warwick, Coventry 4th May 2019
28th PASE Conference "Diversity is inclusive: Cultural, literary and linguistic mosaic", Poznań 27-28 June 2019
European Shakespeare Research Association and Roma Tre University Conference "Shakespeare and European Geographies: Centralities and Elsewhere", Rome 9-12 July 2019
"Interrupted Ideas – An Early Modern Virtual Colloquium" organized by Early Modern Postgraduate Forum, University of York, 27-28 July 2020
Honours and awards
Adam Mickiewicz University Rector's Award for Teaching Excellence (2016)
Award for the best conference poster at "Teaching Early Modern Drama" University of Warwick, Coventry 4th May 2019
Scholarship of the Minister of Science and Higher Education of the Republic of Poland for Distinguished Young Researchers (2020)