dr hab., prof. UAM

Małgorzata Kul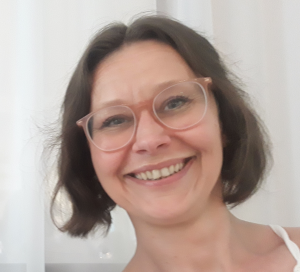 University professor
Collegium Heliodori, room 217

Websites / Profiles
Degrees
MA in English, Poznań, 2002
PhD in English linguistics, Poznań, 2007
Research interests
English phonetics
Natural phonology
Articulatory effort
Phonological processes
Casual speech
Acoustic analysis of speech
Phonetic and phonological reduction
Corpus phonology
Teaching experience
Descriptive Grammar of English (phonetics and phonology)
TEFL at the university level (pronunciation)
MA and BA seminars
Professional organizations
Polskie Towarzystwo Fonetyczne (Polish Phonetic Association)
International Society of Phonetic Sciences
Societas Lingustica Europaea
International experience
Erasmus Plus, Leiden University, LUCL (Leiden University Center for linguistics), 2022 (22.02.22-25.02.22) (Work with dr Dik Smakman, prof. Bert Botma and dr Willemijn Heeren)
Academic exchange in the frame of Agreement for Scientific Cooperation, University of Thessaloniki, School of English, 2019 (15- 23.10.2019) (Work with Prof. Katerina Nikoalidis)
Erasmus Plus, Université Paul-Valéry Montpellier 3, 2016 (10.04.2016-15.04.2016) (Work with Prof. Philip Carr)
AMU: A Unique Graduate = Possibilities. Université Paul-Valéry Montpellier 3, 2015 (13-18.12.15) (Work with Prof. Philip Carr)
The Lifelong Learning Programme Erasmus Staff Mobility, Bielefeld University, 2014 (16.06.2014-20.06.2014) (Work with dr Zofia Malisz and Prof. Dafydd Gibbon)
The Lifelong Learning Programme Erasmus Staff Mobility, Universitetet i Bergen, 2011 (04.04.2011-09.04.2011) (Work with dr Bente Hannisdal)
Erasmus, Universitetet i Tromsø, 2003 (01.02.2003 – 31.04.2003)
Tempus Phare, University College Northampton, 2000 (01.10.2000 – 15.12.2000)
Grants
Research grant number 2020/37/B/HS2/04161 for the project "Probabilistic, prosodic and discourse effects on acoustic distinctiveness in speech". Source of funding: National Science (Opus), position: PI.
Warsaw Scientific Society/Foundation for Polish Science conference travel grant, 2010
Research grant number 2012/05/D/HS2/03565 for the project "Corpus-based analysis and description of phonostylistic processes in Lancashire". Source of funding: National Science Centre. Project website.
Research grant number 0113/NPRH2/H11/81/2013 for the project "Online corpus of modern, standard spoken Polish language in the Wielkopolska region", funded by Ministry of Science and Higher Education within the frameworks of the National Programme for the Development of Humanities (other collaborators: dr Paulina Zydorowicz (AMU), dr Liliana Madelska (University of Vienna), Prof. UAM dr hab. Geoffrey Schwartz (AMU). Project website.
Non-research grants
Poznan City Council grant "Academic Poznan" for dr Oriana Kilbourn-Ceron, 2021
Grant number 633236 for the project MSCA-NIGHT-2014 - European Researchers' Night (NIGHT). Source of funding: Horizon 2020-EU.1.3.5.Date: 09. 2014.Function: participant.
Warsaw Scientific Society/Foundation for Polish Science conference travel grant, 2010
Poznan City Council grant "Academic Poznan" for the New Sounds 2010 plenary speaker, Professor James Flege, 2010 (as a member of the New Sounds 2010 organizing committee)
Papers read at international conferences and congresses
PLM 2021, Poznań (online)
41st ICAME 2020, Heidelberg (online)
PAC 2019 Annual Meeting, Aix-en-Provence 2019
Accents 2018, Łódź
PAC 2017 Annual Meeting, Paris 2017
PLM 2017, Poznań
Accents 2016, Łódź
PAC 2016 12th Annual Meeting , Aix-en-Provence
46th Poznań Linguistic Meeting, Poznań
Sound to Word, Iowa City, 2016
ISMBS 2015 (International Symposium of Monolingual and Bilingual Speech), Chania 2015
18th ICPhS (International Congress of Phonetic Sciences), Glasgow 2015
ICLAVE 8 (International Conference on Language Variation), Leipizig 2015
PAC 2015 11th Annual Meeting, Toulouse 2015
47th Annual Meeting of Societas Lingustica Europaea (SLE2014),11-14 September 2014, Poznań
PAC 2014 10th Annual Meeting, Montpellier 2014
YLMP 2014 (Young Linguists' Meeting in Poznań), Poznań 2014
ExAPP 2013 (Experimental Approaches to Perception and Production of Language Variation), Copenhagen, 2013
22nd Annual Conference of the European Second Language Association, Poznan, 2012
L2 proficiency workshop, Montpellier, 2012
8th Old World Conference in Phonology, Marrakech, 2011
Sociophonetics at the crossroads of speech variation, processing and communication, Pisa, 2010
PAC Workshop, Aix-en-Provence, 2009
5th International Conference on Youth Language, Copenhagen, 2008
38th Poznań Linguistic Meeting, Gniezno, 2007
37th Poznań Linguistic Meeting, Poznań, 2006
MediaCom A Workshop on the Media and International Communication, Łódź, 2005
34th Poznań Linguistic Meeting 2003, Poznań
Organizer of international conferences and congresses
Co-organiser of the International Symposium on the Acquisition of Second Language Speech, New Sounds 2010, 1–3 May 2010, Poznań
Co-organiser of the 47th Annual Meeting of Societas Lingustica Europaea (SLE 2014),11–14 September 2014, Poznań
Co-organiser of the thematic workshop "Phonetic reduction and reduction processes", 47th Annual Meeting of Societas Lingustica Europaea (SLE 2014), Poznań (with dr Bente Hannisdal)
Honours
The Best Young Scholar's Poster, "Sociophonetics at the crossroads of speech variation, processing and communication", Scuola Normale Superiore, Pisa