dr

Michał Wenderski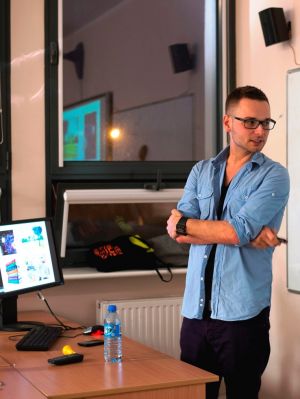 Assistant professor
Collegium Heliodori, room 355

Websites / Profiles
Degrees
M.A.Sc. in Architecture and Urban Planning, Poznań University of Technology, 2010
B.A. in Dutch Studies, AMU Poznań, 2012
Ph.D. in Dutch and Flemish Literature, AMU Poznań, 2017
Research interests
Polish-Dutch cultural diplomacy, relationships and exchange
Polish, Dutch and Flemish twentieth century aesthetic avant-garde
Cultural mobility between Poland and the Low Countries
Theory and history of modern literature, art and architecture
Teaching experience
Practical Dutch
Technical translation
Modern art and architecture in the Low Countries
Cultural History of the Netherlands since 1940
Cultural History of Flanders since 1940
Guest lectures
"Are 'isms' a burden for modern art historiography?", Faculdade de Ciências Sociais e Humanas, Universidade Nova de Lisboa, Lisbon, 2020
"Interwar Avant-Garde: a supranational network of artists, magazines and formations", Faculdade de Ciências Sociais e Humanas, Universidade Nova de Lisboa, 2020
"Ma, De Stijl, Blok and others: on the supranational network of avant-garde magazines and formations", Kassák Múzeum, Budapest, 2018
"Historische avant-garde in de Lage Landen en Centraal-Europa – contacten, parallellen en invloeden", Faculty of Humanities, Eötvös Loránd University, Budapest, 2018
"Hoe ga je aan de slag met archiefonderzoek?", Faculty of Humanities, Eötvös Loránd University, Budapest, 2018
"Au-delà de De Stijl. L'avant-garde néerlandaise et belge de l'entre-deux-guerres dans le contexte européen", Faculté des Lettres, Université Paris-Sorbonne, 2018
"Awangarda niczym Facebook, Twitter i Instagram – o polsko-holenderskich relacjach w ramach międzywojennej sieci awangardowych czasopism i artystów", Muzeum Sztuki w Łodzi, 2018
"Czym jest Dada, czym było i jak powstało?", Muzeum Sztuki w Łodzi, 2015
"STIJL west – oost BLOK. Wisselwerkingen in het Europese avant-gardenetwerk", University of Utrecht, Department of Languages, Literature and Communication (visiting researcher), 2014
Papers read at international conferences and congresses
Poetry & Painting: Conversations, University of Oxford, Oxford 2020
The 44th STP&A Conference, Social Theory, Politics, and the Arts, University of New Orleans, LA, 2019
Art in the Periphery: Universidade Nova de Lisboa, Lisbon, 2019
Regionaal Colloquium Neerlandicum, Comenius Vereniging voor Neerlandistiek in Centraal-Europa, Bratislava, 2019
Relational Forms IV: Literature and the Arts Since the 1960s: Protest, Identity and the Imagination, University of Porto, 2018
The Sixth EAM Conference; European Network for Avant-Garde and Modernism Studies, University of Münster, 2018
Trefpunt Praag: zesde doctorandi- en habilitandicolloquium; Charles University, Prague, 2018
The Avant-Garde: Aesthetic Strategies and Participatory Art; Centre for Avant-Garde Studies, Faculty of Polish Studies, Jagiellonian University in Krakow​, 2017
Invisible Republic. Music, Lettrism, Avant-Gardes; Centre for English Studies, University of Lisbon, 2017
Global Avant-Gardes: Visual and Verbal (ACLA Conference 2016); Harvard University, Cambridge, MA, 2016
Avant-garde Migrations; Universidade Nova de Lisboa & Fundação Calouste Gulbenkian, Lisbon, 2015
Local Contexts / International Networks. Avant-Garde Magazines in Central Europe (1910–1935); Kassák Múzeum, Budapest, 2015
Negentiende Colloquium Neerlandicum; Internationale Vereniging voor Neerlandistiek, Leiden, 2015
Regionaal Colloquium Neerlandicum; Comenius Vereniging voor Neerlandistiek in Centraal-Europa, Brno/Olomouc, 2015
Cross-Over. Regionaal, (trans)nationaal, globaal. Definities en methodologieën, grenzen en gemeenschappelijke ruimtes, schrijvers en erfgoed; Poznań, 2015
Nationalism and Cosmopolitanism in Avant-Garde and Modernism: The Impact of WWI; Academy of Sciences of the Czech Republic, Prague, 2014
The Fourth EAM Conference; European Network for Avant-Garde and Modernism Studies, Helsinki, 2014
Neerlandistische Ontmoetingen; Comenius Vereniging voor Neerlandistiek in Centraal-Europa, Budapest, 2014
The European Artistic Avant-Garde c. 1910-30: Formations, Networks and Trans-National Strategies; Södertörn University, Stockholm, 2013
Time and Temporality in European Modernism and the Avant-Gardes (1900-1950); Modernism Research Group of the Catholic University in Leuven, 2013
Regionaal Colloquium Neerlandicum; Comenius Vereniging voor Neerlandistiek in Centraal-Europa, Poznań, 2013
Research grants
2019-2022: NCN/Opus 16: Art and politics: Polish-Dutch cultural transfer during the Cold War in the face of international policy (2018/31/B/HS2/00121)
2015-2019: NCN/Preludium 7: Mutual relations and cultural exchange within the constructivist avant-garde network in Poland, Flanders and the Netherlands in the 1920s. A case study in European modernist mobility in the interwar period (ID: 252607)
2016 & 2014 (two grants): Dutch Language Union / Nederlandse Taalunie: Wisselwerkingen tussen de constructivistische groeperingen uit Polen en de Lage Landen in het netwerk van de Europese historische avant-garde.
2015: Visegrad Fund (WA participant; grant awarded to Kassák Múzeum in Budapest): Local Contexts / International Networks. Avant-Garde Magazines in Central Europe (1910–1935).
Conference/Congress organisation
Assistant to the Organising Committee: Regionaal Colloquium Neerlandicum, Poznań, 2013
Assistant to the Organising Committee: Cross-Over. Regionaal, (trans)nationaal, globaal. Definities en methodologieën, grenzen en gemeenschappelijke ruimtes, schrijvers en erfgoed, Poznań, 2015
Professional organisations
Internationale Vereniging voor Neerlandistiek
Comenius Vereniging voor Neerlandistiek in Centraal-Europa
European Network for Avant-Garde and Modernism Studies
Social Theory, Politics, and the Arts
Other professional experience
Member of the National Science Center (NCN) panel of experts
Seminar "The International Position of Dutch Language and Culture", Utrecht University (August 2019)
WA Open Lecture: "Awangarda niczym Facebook, Twitter i Instagram - o polsko-niderlandzkich relacjach w ramach międzywojennej sieci awangardowych czasopism i artystów." (April 2019)
Contribution to the exhibition Organizatorzy życia. De Stijl, polska awangarda i design / Organizers of Life. De Stijl, the Polish Avant-garde and Design held at Muzeum Sztuki in Łódź (November 2017 – February 2018)
WA Friday Lunch Talk: Międzywojenna awangarda w Polsce i Niderlandach – wzajemne wpływy oraz kontakty (February 2016)
Chairing a discussion panel with Belgian painter Luc Tuymans (Poznań, November 2014) and writer Annelies Verbeke (Neerlandicidag, Wroclaw, April 2014)
Practicing translator and interpreter
Assistant to the Organising Committee: BELOW Kultura Flandrii i Holandii w Poznaniu i Wielkopolsce, maj 2013
Scholarships
Scholarship from the Minister of Science and Higher Education for outstanding young researchers (2019-2022)
Erasmus+ programme, Staff Mobility for Teaching, 2017/2018, 2019/2020
AMU Rector's Scholarship for outstanding PhD Students, 2015/2016
Adam Mickiewicz University Foundation Scholarship for 2015/2016
Institut National des Sciences Appliquées de Strasbourg, France, 2008-09
Strasbourg City Council 'Club de Strasbourg' Scholarship, France, 2008-09